Learn about the "Mill in the Bakery" concept
Jean-Pierre would like to share his experience of the mill concept in the bakery with as many people as possible.
Improve your bakery's results by offering a range of "Signature" breads.
At the Olivero-Ravel bakery in Bédoin (84), you can learn about the "Moulin dans la Boulangerie" concept: milling, bread-making and sales.
This training course is the transmission of work that has borne fruit, with figures to back it up, for people, for taste, for giving value to bread.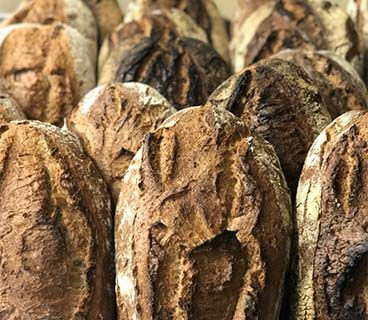 Jean-Pierre in a few words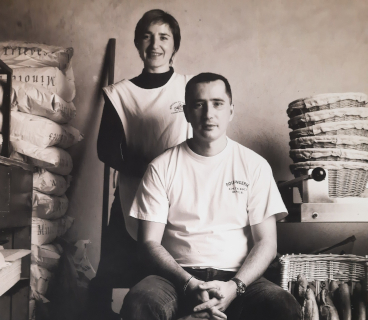 Jean-Pierre Olivero became a baker over 25 years ago, through his love of bread and his reading of Gaston Lenôtre.
The creator of several wood-fired and electric bakeries, his breads are fermented over a long period of time: liquid sourdough, hard sourdough, fermented dough, poolish…
His experience and work led him to develop the "Moulin dans la Boulangerie" concept: getting back to basics, making a decent living from his profession, having the time and feeding people with the finest of intentions.
In this way, he develops home-made flavors that are immensely pleasing in a minimal, authentic bread-making process within a concept he wishes to share with all and sundry. (full bio here)
Training objectives
This course introduces and/or prepares you for the "Mill in the Bakery" concept.
Its aim is a simple and effective redesign of your bakery concept. It focuses on developing the following skills in particular:
• Produce complete stone-ground breads.
• Produce a wide range of special breads in record time.
• Use minimal bread-making methods based on fresh wholemeal flours in assembly.
• Train sales staff to offer special breads.
Registration
To learn more about the concept, send an e-mail to: olivero.ravel@gmail.com